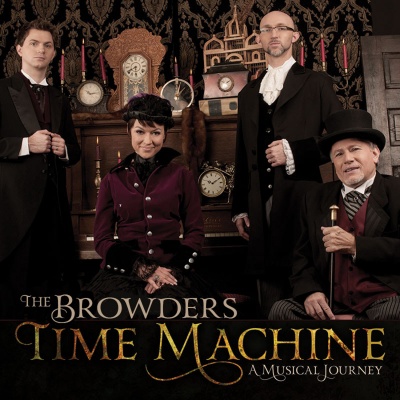 Time Machine
Browders - July 29, 2013
Genre: Southern Gospel

After earning the "Breakthrough Artist of the Year" at the 2013 Absolutely Gospel Music Awards, The Browders step to the main stage with their eleven song debut for Daywind Music. Time Machine showcases the Virginia-based family group's close-knit harmonies and melodic gifts on "He Is Alive," "God Knows What's Best," "The Reason," and others.
UPC # 614187243923
Format
Retail
Price
Audio CD - Physical
$14.98

$11.98

$

11.98

MP3 Album - Digital Download
$14.98

$11.98

$

11.98
NOTE: MP3 Albums are digital downloads. A CD will not be mailed out.
Song Title
Artist
Time
Price
MP3 Album - Digital Download

Contains everything below + lyrics (when available):

Browders

- FULL DIGITAL ALBUM -

Lift Up His Name
Browders
3:26

- MUSIC DOWNLOAD -

He Is Alive
Browders
2:52

- MUSIC DOWNLOAD -

Time Machine
Browders
3:55

- MUSIC DOWNLOAD -

Listening For The Shout
Browders
2:53

- MUSIC DOWNLOAD -

He Took The Nails
Browders
4:43

- MUSIC DOWNLOAD -

Whatever You're Going Through
Browders
3:37

- MUSIC DOWNLOAD -

God Knows What's Best
Browders
3:22

- MUSIC DOWNLOAD -

Pick Me Up
Browders
3:13

- MUSIC DOWNLOAD -

The Reason
Browders
5:26

- MUSIC DOWNLOAD -

New Song
Browders
2:56

- MUSIC DOWNLOAD -

Waiting For You To Get Home
Browders
3:59

- MUSIC DOWNLOAD -