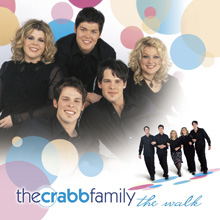 The Walk
The Crabb Family - June 9, 2003
Genre: Southern Gospel

The freshest sound to come out of Southern Gospel music in years.

In a relatively short period of time, they have attained sales, radio success and fan popularity that ordinarily takes years to build.

Appears on Gaither & Friends "God Bless America" video.

2002 Southern Gospel Music Association Mixed Group Of The Year.

"A Crabb Collection" has been nominated for Southern Gospel Album Of the Year Dove Award.
UPC # 614187133729
| | Song Title | Artist | Time | Price | |
| --- | --- | --- | --- | --- | --- |
| | Greater Is He | The Crabb Family | | | |
| | I Will Follow You | The Crabb Family | | | |
| | The Walk | The Crabb Family | | | |
| | If You Only Knew | The Crabb Family | | | |
| | The Cross | The Crabb Family | | | |
| | Traveling On | The Crabb Family | | | |
| | Wounded Soldier | The Crabb Family | | | |
| | Jesus Will Do What You Can't | The Crabb Family | | | |
| | You Let The Light Back In | The Crabb Family | | | |
| | His Grace | The Crabb Family | | | |
| | I Could Tell You Had Forgotten | The Crabb Family | | | |
| | Lend A Hand | The Crabb Family | | | |
| | Who Will Survive The Storm | The Crabb Family | | | |