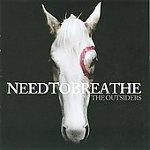 The Outsiders
Needtobreathe, Atlantic Rec - August 25, 2009
Genre: Contemporary, Rock

Introducing brand new music from South Carolina based band Needtobreathe. The Outsiders is the follow up to their best-selling sophomore release The Heat which yielded two #1 singles, and a top 5 single at Christian radio.

Known for their second-to-none live performances, profound lyrics and song arrangements, The Outsiders delivers on all fronts with stand outs such as "Lay 'Em Down", "Let Us Love" and "Garden".

Co-produced by Needtobreathe with producers John Alagia (Dave Matthews Band, John Mayer) the legendary Jim Scott (Tom Petty, Red Hot Chili Peppers, Wilco) and once again Rick Beato, who co-produced several tracks on The Heat.

Guest musicians on the album include Sara Watkins of Nickel Creek and Scotty Wilbanks of Third Day.

"These Hard Times" was heard on promo spots for NBC's "Mercy".

Check out the music video for "Lay 'Em Down" and "Something Beautiful" in Media section.
UPC # 075678959721
| | Song Title | Artist | Time | Price | |
| --- | --- | --- | --- | --- | --- |
| | The Outsiders | | | | |
| | Valley Of Tomorrow | | | | |
| | Through Smoke | | | | |
| | Lay 'Em Down | | | | |
| | What You've Done To Me | | | | |
| | Hurricane | | | | |
| | These Hard Times | | | | |
| | Stones Under Rushing Water feat. Sara Watkins | | | | |
| | Prisoner | | | | |
| | Won't Turn Back | | | | |
| | Girl Named Tennessee | | | | |
| | Something Beautiful | | | | |
| | Garden | | | | |
| | Let Us Love | | | | |