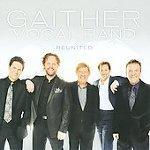 Reunited
Gaither Vocal Band - November 3, 2009
Genre: Southern Gospel

With an unprecedented "full circle" line-up of all-star voices, the Gaither Vocal Band presents this quintessential collection of Gaither-penned favourites with all the excellence and spirit that has defined the group's legacy for more than a quarter-century.

With sterling vocals and breathtaking harmonies _Reunited_ delivers fresh, captivating arrangements that breathe new energy into classic favourites… once again raising the standard in male harmony for decades to come.

The voices of Michael English, Bill Gaither, Wes Hampton, Mark Lowry and David Phelps represent men who have tested the truth of these powerful messages over time and found them to be thoroughly trustworthy - a treasury of songs worth celebrating!
UPC # 617884604424
| | Song Title | Artist | Time | Price | |
| --- | --- | --- | --- | --- | --- |
| | I Believe In A Hill Called Mount Calvary | | | | |
| | It Is Finished | | | | |
| | Loving God, Loving Each Other | | | | |
| | He Touched Me | | | | |
| | Because He Lives | | | | |
| | I'm Free | | | | |
| | I Am Loved | | | | |
| | The King Is Coming | | | | |
| | Sinner Saved By Grace | | | | |
| | Worthy The Lamb | | | | |
| | The Church Triumphant | | | | |
| | These Are They | | | | |
| | There's Something About That Name [Live Version] | | | | |