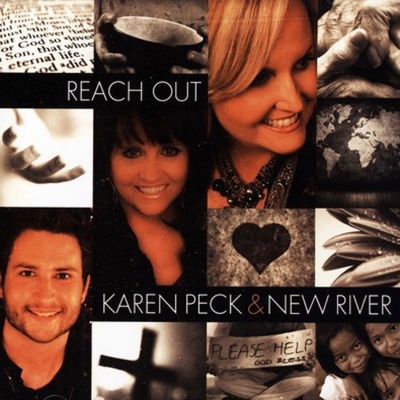 Reach Out
Karen Peck & New River - June 28, 2011
Genre: Southern Gospel

Southern gospel mainstays Karen Peck & New River are back with another brand-new collection of soul-satisfying hits! Reach Out showcases the trio's country side on eleven brightly polished musical gems, including "This Is What Mercy Does," "Sustaining Grace," "Love With All Your Heart," and more.
UPC # 614187173220
Format
Price
Audio CD - Physical

$14.98

$

14.98

MP3 Album - Digital Download

$14.99

$

14.99
NOTE: MP3 Albums are digital downloads. A CD will not be mailed out.
Song Title
Artist
Time
Price
MP3 Album - Digital Download

Contains everything below + lyrics (when available):

Karen Peck & New River

- FULL DIGITAL ALBUM -

Mighty Big God
Karen Peck & New River
3:36

- MUSIC DOWNLOAD -

On The Banks Of The Promised Land
Karen Peck & New River
3:57

- MUSIC DOWNLOAD -

Love With All Your Heart
Karen Peck & New River
3:30

- MUSIC DOWNLOAD -

Sustaining Grace
Karen Peck & New River
3:06

- MUSIC DOWNLOAD -

Good Things Are Happening
Karen Peck & New River
3:37

- MUSIC DOWNLOAD -

This Is What Mercy Does
Karen Peck & New River
4:20

- MUSIC DOWNLOAD -

Now More Than Ever
Karen Peck & New River
4:12

- MUSIC DOWNLOAD -

Don't Worry About The Waves
Karen Peck & New River
2:46

- MUSIC DOWNLOAD -

The Faithful Love of Jesus
Karen Peck & New River
3:41

- MUSIC DOWNLOAD -

Broken Into Beautiful
Karen Peck & New River
3:54

- MUSIC DOWNLOAD -

Reach Out And Touch
Karen Peck & New River
3:43

- MUSIC DOWNLOAD -