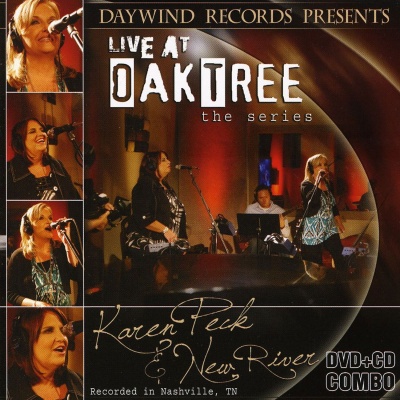 Live at Oak Tree: Karen Peck (CD+DVD)
Karen Peck - April 7, 2010
Genre: Southern Gospel

The Live At Oak Tree series features incredibly fun and intimate recordings of today's great Southern Gospel artists. Includes extensive behind-the-scenes footage including stories behind the songs. Classic hits and new songs performed. Live studio recordings available as a CD/DVD combo.

Nominated for a Dove Award for Female Vocalist of the Year 2010.
UPC # 614187170496
Format
Price
Audio CD - Physical

$16.98

$

16.98

MP3 Album - Digital Download

$16.98

$

16.98
NOTE: MP3 Albums are digital downloads. A CD will not be mailed out.
Song Title
Artist
Time
Price
MP3 Album - Digital Download

Contains everything below + lyrics (when available):

Karen Peck

- FULL DIGITAL ALBUM -

Ephesians Chapter One
Karen Peck & New River
2:50

- MUSIC DOWNLOAD -

Whispered Prayers
Karen Peck & New River
2:48

- MUSIC DOWNLOAD -

It's Gonna Have To Be God
Karen Peck & New River
3:37

- MUSIC DOWNLOAD -

Special Love
Karen Peck & New River
4:56

- MUSIC DOWNLOAD -

Four Days Late
Karen Peck & New River
4:20

- MUSIC DOWNLOAD -

My God Will Always Be Enough
Karen Peck & New River
4:43

- MUSIC DOWNLOAD -

We Shall Wear A Crown
Karen Peck & New River
4:02

- MUSIC DOWNLOAD -

Hold Me While I Cry
Karen Peck & New River
4:26

- MUSIC DOWNLOAD -

I Want To Thank You
Karen Peck & New River
4:09

- MUSIC DOWNLOAD -