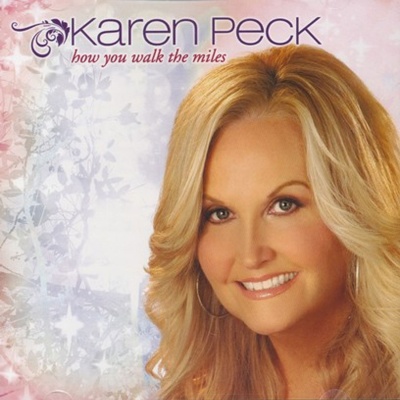 How You Walk The Miles
Karen Peck - October 23, 2012
Genre: Southern Gospel

This 2012 release from southern gospel & bluegrass standout Karen Peck features twelve new songs of devotion, praise, and faith, featuring Gaither family performers on instruments and backing vocals. How You Walk the Miles showcases Karen's exceptional voice with assistance from The Oak Ridge Boys, David Phelps, Wes Hampton, Jason Crabb, Gordon Mote, and many more.
UPC # 614187207727
Format
Retail
Price
Audio CD - Physical
$9.99

$7.99

$

7.99

MP3 Album - Digital Download
$9.99

$7.99

$

7.99
NOTE: MP3 Albums are digital downloads. A CD will not be mailed out.
Song Title
Artist
Time
Price
MP3 Album - Digital Download

Contains everything below + lyrics (when available):

Karen Peck

- FULL DIGITAL ALBUM -

Talk About The Good Things
Karen Peck
2:57

- MUSIC DOWNLOAD -

How You Walk The Miles
Karen Peck
3:37

- MUSIC DOWNLOAD -

God Lives There
Karen Peck
3:36

- MUSIC DOWNLOAD -

If You Wanna Go To Heaven
Karen Peck
2:59

- MUSIC DOWNLOAD -

Extra Mile
Karen Peck
4:19

- MUSIC DOWNLOAD -

Stand By The River
Karen Peck
2:24

- MUSIC DOWNLOAD -

Part Of Letting Go
Karen Peck
3:10

- MUSIC DOWNLOAD -

Pray
Karen Peck
3:31

- MUSIC DOWNLOAD -

Fix Me Jesus
Karen Peck
3:12

- MUSIC DOWNLOAD -

Put A Little Love In Your Heart
Karen Peck
2:52

- MUSIC DOWNLOAD -

Everywhere
Karen Peck
3:18

- MUSIC DOWNLOAD -

Holy Spirit Speak To Me
Karen Peck
3:28

- MUSIC DOWNLOAD -