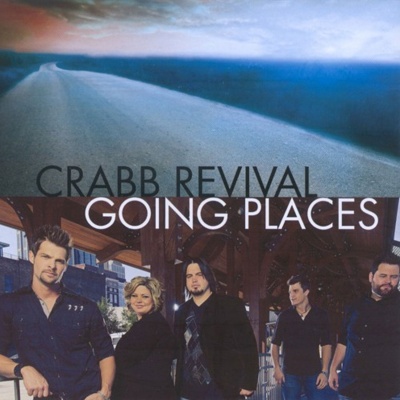 Going Places
Crabb Revival - February 1, 2011
Genre: Southern Gospel

In their latest studio recording, Going Places, Crabb Revival returns to their Crabb Family roots, with a style reminiscent of popular projects, The Walk andDriven.
With Adam Crabb's signature vocals, supported by vocalists and musicians, Zach and Amanda Smith, Brooks Till and Jedidiah Richardson, and featuring three songs penned by Gerald Crabb, Going Places, promises to be the next addition in a long line of great music from the talented Crabb family.
Featuring the debut single, "Try Walking on the Water".
UPC # 614187172124
Format
Price
Audio CD - Physical

$14.98

$

14.98

MP3 Album - Digital Download

$14.98

$

14.98
NOTE: MP3 Albums are digital downloads. A CD will not be mailed out.
Song Title
Artist
Time
Price
MP3 Album - Digital Download

Contains everything below + lyrics (when available):

Crabb Revival

- FULL DIGITAL ALBUM -

Help Me
Crabb Revival
4:47

- MUSIC DOWNLOAD -

God's Up To Something
Crabb Revival
3:44

- MUSIC DOWNLOAD -

unforgiven
Crabb Revival
3:32

- MUSIC DOWNLOAD -

Come To Jesus
Crabb Revival
4:10

- MUSIC DOWNLOAD -

He's Going Places
Crabb Revival
3:47

- MUSIC DOWNLOAD -

The Crossing
Crabb Revival
3:54

- MUSIC DOWNLOAD -

Gonna Have A Time Tonight
Crabb Revival
4:23

- MUSIC DOWNLOAD -

Heartbeat Of God
Crabb Revival
2:56

- MUSIC DOWNLOAD -

If Not For Grace
Crabb Revival
3:35

- MUSIC DOWNLOAD -

Walking On The Water
Crabb Revival
3:18

- MUSIC DOWNLOAD -