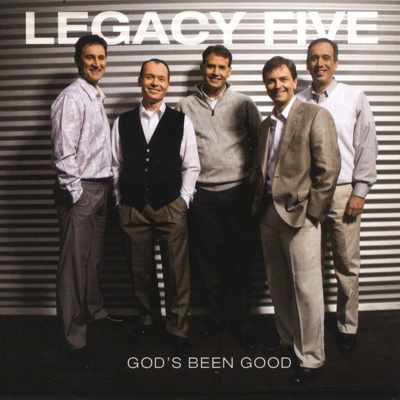 God's Been Good
Legacy Five - May 20, 2008
Genre: Southern Gospel

Legacy Five has, once again, raised the bar of excellence with a brand new recording entitled, God's Been Good.

The album is a true celebration from the very first note to the final chord and it reminds us of the goodness and faithfulness of God.

With songs like In A Million Years, God's Been Good and the debut single, Hello After Goodbye, you can't help but rejoice in the hope He brought to us and the hope that we have that is waiting on the other side.

Don't miss out on this great new music from Legacy Five... God has truly been good!
UPC # 614187155523
Format
Price
Audio CD - Physical

$16.98

$

16.98

MP3 Album - Digital Download

$16.98

$

16.98
NOTE: MP3 Albums are digital downloads. A CD will not be mailed out.
Song Title
Artist
Time
Price
MP3 Album - Digital Download

Contains everything below + lyrics (when available):

Legacy Five

- FULL DIGITAL ALBUM -

In A Million Years
Legacy Five
4:10

- MUSIC DOWNLOAD -

The Moment I Get Up There
Legacy Five
2:35

- MUSIC DOWNLOAD -

Goin' Home Day
Legacy Five
2:22

- MUSIC DOWNLOAD -

Hello After Goodbye
Legacy Five
3:53

- MUSIC DOWNLOAD -

Every Morning
Legacy Five
2:22

- MUSIC DOWNLOAD -

God Will Go
Legacy Five
3:54

- MUSIC DOWNLOAD -

What Faith Does
Legacy Five
2:55

- MUSIC DOWNLOAD -

Heavenly Signs
Legacy Five
2:35

- MUSIC DOWNLOAD -

Roll On
Legacy Five
2:42

- MUSIC DOWNLOAD -

Take It To The Cross
Legacy Five
4:38

- MUSIC DOWNLOAD -

God's Been Good
Legacy Five
4:20

- MUSIC DOWNLOAD -