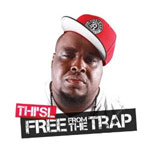 Free From The Trap
Thi'sl - March 7, 2013
Exclusive: New Day Exclusive
Genre: Rap & Hip-Hop

 100% Real
There is one thing every person respects, and that's honesty. We're in a time when it seems as if everyone is lying; the media, politicians, pastors, entertainers, athletes. We don't know who to trust or who to believe. Honesty is at a premium right now. Phrases like "I'm real," "let me keep it real," and "real recognize real" are usually followed by some lie, manipulation or fabrication of the truth. The line of what's real and what's fake are blurred: especially in hip-hop.
"Trap rappers" have become the new trend in hip-hop. Rhymes saturated in fabricated street tales, and stories that can only be real in movies, dominate the airwaves. The lifestyle of selling drugs and gang-banging is glorified throughout there songs. It has painted a glamorous picture about that life. It has been turned into something like a goal or dream for some people.
With all of this going on in hip-hop, in steps Thi'sl. The St. Louis MC has been honestly and aggressively attacking that picture the "trap rappers" are painting, with his own agenda to expose it for what it really is; a lie. Throughout his career, Thi'sl has been painting his own picture of reconciliation and redemption for the person caught up in that lifestyle. His new record Free From the Trap is no different.
Thi'sl takes the listener right into the trap. He shares heartfelt stories and experiences, and mixes it with the hope of better days. The song "Baby Mammas and Broken Hearts" will pull at your heart strings as Thi'sl paints the scene of this single mother who lost her baby's father to the trap lifestyle. The listener relives these similar feelings on the track "We Blind" featuring Brian Owens. Thi'sl paints pictures of people dying from the lifestyle they choose to live and why some young people choose to live that lifestyle. It is an honest look into the psyche of individuals in that situation. It draws the listener into that situation and helps them to understand it a little bit better.
Thi'sl didn't just pull on your heart strings though. He painted beautiful pictures of hope with the songs "Wish Upon A Star" and "In the Morning" featuring Daphne Rice. These tracks shine bright on this record because the message of hope shines so bright. This helps create a balanced record and it gives the listener something that they can take away.
Thi'sl has always had great message, that has never been in question. Free From the Trap is more intense than prior records, but there is also a lot of hope and encouragement in it. This is such an important message right now and Thi'sl is the perfect artist to deliver it. Free From the Trap is the perfect package to tell people that there is a hope and a way to be free from the trap.
UPC # 859709030678
| | Song Title | Artist | Time | Price | |
| --- | --- | --- | --- | --- | --- |
| | I'm Ready | | | | |
| | Snap Off | | | | |
| | I Needed You | | | | |
| | Baby Mommas And Broken Hearts | | | | |
| | Wish Upon A Star | | | | |
| | Motivation | | | | |
| | All We Know Is Winning | | | | |
| | Until The Next Time | | | | |
| | We Blind | | | | |
| | Lord Help Me | | | | |
| | In The Morning | | | | |