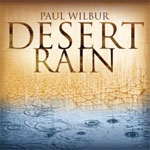 Desert Rain
Paul Wilbur - June 1, 2011
Genre: Contemporary

Recorded live in the Desert of Ein Gedi on the banks of the Dead Sea in Israel, Desert Rain is a vibrant worship experience featuring the best Messianic worship songs of our day.
Recorded during the Feast of Tabernacles, Paul Wilbur and over 5,000 worshipers gathered to sing over the nation of Israel and pray for healing rain that would bring new life to dry hearts and desert lands.
Includes Guest Vocalists Ana Paula and Sharon Wilbur.
Available in CD, CD Trax, Songbook and Digital Songbook.
UPC # 000768476529