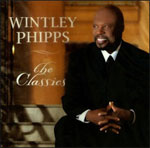 Classics
Wintley Phipps - March 1, 2012
Genre: Gospel

Loved the world over, Wintley Phipps brings you The Classics, a collection of faithful songs that resonates with Wintley's classically-trained voice.

From the enduring favourite "The Lord's Prayer" to the energizing "Amen", your heart will be moved to worship the Almighty.

From Billy Graham Crusades to the "Oprah Winfrey Show", Wintley's voice has touched countless millions, and with The Classics, your heart will be touched with God's great majesty.
UPC # 0717336629927
| | Song Title | Artist | Time | Price | |
| --- | --- | --- | --- | --- | --- |
| | My Tribute | | | | |
| | The Love of God | | | | |
| | Amen! | | | | |
| | Holy, Holy, Holy | | | | |
| | The Lord's Prayer | | | | |
| | The Lord Is My Light | | | | |
| | There Is Power in the Blood | | | | |
| | He | | | | |
| | Immortal, Invisible | | | | |
| | Deep in My Heart | | | | |