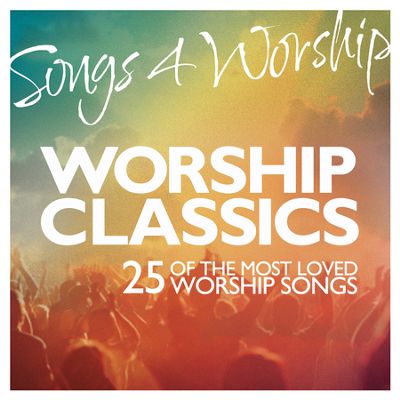 Songs 4 Worship - Classics
Various - April 9, 2014
Audiences:
Format:
Genre:
Special Occasions:

It doesn't get much better than this---top artists praising God with favorite songs for an explosive worship experience! Be lifted up by "Open the Eyes of My Heart" (Paul Baloche); "Shout to the Lord" (Hillsong with Darlene Zschech); "Blessed By Your Name" (Matt Redman); "Revelation Song" (Gateway Worship, featuring Kari Jobe); "I Exalt Thee" (Israel Houghton); and more. Two CDs.
UPC # 000768567920
| | Song Title | Artist | Time | Price | |
| --- | --- | --- | --- | --- | --- |
| | Open the Eyes Of My Heart - Paul Baloche | | | | |
| | Come Now Is The Time to Worship - Brian Doerksen | | | | |
| | Shout To The Lord - Hillsong with Darlene Zschech | | | | |
| | In Christ Alone/The Solid Rock - Travis Cottrell | | | | |
| | Blessed Be Your Name - Matt Redman | | | | |
| | Mighty To Save - Don Moen | | | | |
| | Here I Am To Worship - Tim Hughes | | | | |
| | How Great Is Our God - David Lubben | | | | |
| | Your Name - Paul Baloche | | | | |
| | I Could Sing Of Your Love Forever - Delirious | | | | |
| | Revelation Song - Gateway Worship featuring Kari Jobe | | | | |
| | Above All - Lenny LeBlanc | | | | |
| | 10,000 Reasons - Soul Survivor | | | | |
| | You Are My King - Candi Pearson Shelton | | | | |
| | Everlasting God - Brenton Brown | | | | |
| | Heart Of Worship - Matt Redman | | | | |
| | Give Thanks - Don Moen | | | | |
| | I Worship You Almighty God - Lisa Glasgow | | | | |
| | More Precious Than Silver - Lisa Bevill | | | | |
| | Hosanna - Paul Baloche | | | | |
| | Our God - Lincoln Brewster | | | | |
| | O The Blood - Gateway Worship featuring Kari Jobe | | | | |
| | Trading My Sorrows - Darrell Evans | | | | |
| | Breathe - Kathryn Scott | | | | |
| | I Exalt Thee - Israel Houghton | | | | |