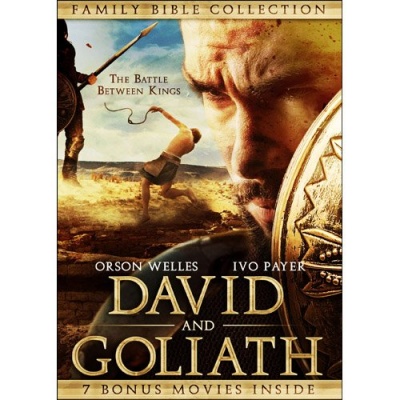 David and Goliath (Includes 7 Bonus Movies)
Echo Bridge - August 8, 2017
Format: DVD

UPC # 096009466244
Product Description
David and Goliath
A young shepherd named David must challenge a nine-foot tall giant to a battle in order to remove King Saul (Orson Welles) from his throne.
Esther and the King
Esther (Joan Collins) hopes she will win the devotion of King Ahasuerus (Richard Egan) and influence him to make peace among all the citizens of Persia.
Joseph and His Brethren
Joseph and His Brethren is the powerful Old Testament parable of Joseph, a slave who frees himself from oppression and becomes a minister in the Pharaoh's court.
Constantine and the Cross
The rise of the Roman Emperor Constantine (Cornel Wilde) and how his conversion to Christianity changed the world.
James Brother of Jesus
Travel around the world as archeologists and theologians attempt to solve the mystery of a burial box inscribed in Aramaic with the words "James, son of Joseph, brother of Jesus."
Herod the Great
The massacre of innocent babies in Bethlehem and the destruction of his colossal kingdom are the shocking results of Herod the Great's fit of revenge.
The Great Commandment
Jesus of Nazareth teaches Joel, a young Judean scholar, peace and passivity, helping Joel to avoid violence when he's confronted by the Roman soldier who murdered his brother.
The Pilgrimage Play
The story of the life of Jesus Christ (Nelson Leigh) as told by the disciple Peter to two other prisoners as they all await their fates in prison.