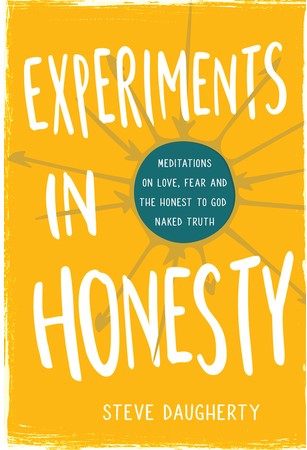 Experiments in Honesty: Meditations on Love, Fear and the Honest to God Naked Truth
Steve Daugherty, Worthy - March 6, 2018
ISBN-13: 9781683971351
Book Format: Paperback

UPC # 9781683971351
Product Description
Award-winning storyteller, podcast host, and pastor Steve Daugherty presents God and faith in a new light. Similar in style to Donald Miller and Rachel Held Evans, Daugherty writes entertaining, engaging essays filled with wit and wisdom.
Experiments in Honesty seeks to help us rediscover the wonder of God's Love. When Jesus was asked about the main point of faith, his answer was consistently beautiful: Love God earnestly, Love others the way you want to be loved.
By connecting dots in new ways and telling memorable stories, Steve Daugherty explores compassion, fear, anger, faith, and the embrace of what's true in Experiments in Honesty.
Regardless of where you stand with Christian spirituality, this book will prove to be a warm welcome home to the simple, transformative beauty of God's love.
"In contrast to much of the pious claptrap out there these days, Steve's voice in Experiments in Honesty is an heir to grace, quietly and humanly reminding us that we are too, we really are." -- John Blase, poet and author of The Jubilee: Poems and Know When To Hold 'Em: The High Stakes Game of Fatherhood