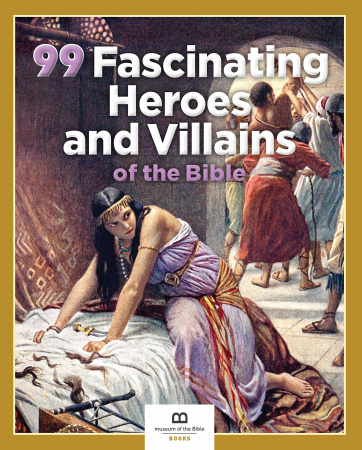 Product Description
Compelling narrative takes readers on an informative journey, telling stories of major and minor heroes and villains found in the Bible.
What transforms a once-average person to hero status? How does one become a villain? We'll explore the famous and infamous characters found in the Bible and dig a little into what the Bible says about them.
Villains: Cain, Pharaoh -- King of Egypt, Delilah, Goliath, Jezebel, Nebuchadnezzar, Haman, Herod the Great, Herod Antipas and Herodias, Judas Iscariot, Pontius Pilate, Abimelech, Lot, The Levite who abandoned his concubine, etc.
Heroes: Abraham and Sarah, Moses, Samson, Deborah, David, Elizah, Esther, Mary, Jesus, John the Baptist, Peter, Paul, Shiphrah and Puah, Rahab, Joshua, Widow of Zaraphath, Shadrach, Meshach, and Abednigo, Mary, Martha, Tenth Leper, Zacchaeus, The Good Samaritan, Joseph, etc.
Part of an ongoing series from Museum of the Bible: 99 World-Changing People Influenced by the Bible, 99 Astonishing Cities and Civilizations Found in the Bible, 99 Earth-Shattering Events Linked to the Bible, 99 Ancient Secrets and Mysteries of the Bible Explored, and 99 Amazing Books and Films Inspired by the Bible.