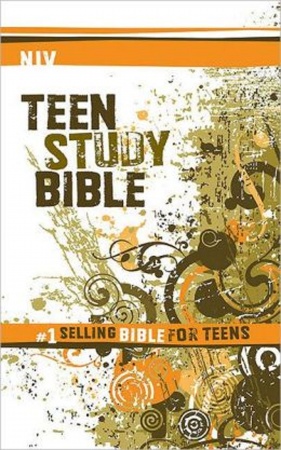 Product Description
As an on-the-go teen, you're moving fast. God is moving faster! Keep in step with all he has done, is doing, and will do in the world—and in your life—with the Teen Study Bible. Discover the foundational truths of the Bible! Totally revised, this best-selling Bible will help you get in touch with what God's Word has to say about faith, friends, family, and the challenges you face and apply them to the issues you face today.

Features:
We Believe —Unpacks the Apostles' Creed to reveal the biblical foundation of faith
Panorama —Keeps the big picture of each book of the Bible in view
20 Full-Color Pages —Features information about ancient ruins, foreign languages, music, and more, then space for recording thoughts and reactions
Key Indexes —Helps with enhanced Bible study
Book Introductions —Sums up the main themes and hits the highlights of each book of the Bible
Background information —About what was happening in the world when each book of the Bible was written
To The Point —Biblical perspectives on today's issues
Instant Access —Looks at Bible passages and answers the question: What does this mean for me?
Q & A —Asks and answers interesting Bible trivia questions
Dear Jordan —Gives advice about friends, family, school, and more backed up with relevant Bible Scriptures
Bible Promises —Highlights Bible verses worth remembering
Full-color tip-in pages
Presentation page
Ribbon marker
8.75" x 5.50" x 1.50"